Esiness Travel DMC rich selection of hotels is continually blooming. We are able to answer all hotelier's needs in order to achieve a prosperous business relationship. Our team is ready to create a custom-made improvement strategy, according to the unique characteristics of each establishment. Success and professionalism are what is connecting Esiness travel DMC to so many hotel and accommodation owners.
Organized around the viable growth of the local market, our team is dedicated to providing hotel management services and day-to-day support to help hoteliers reach their goals. Furthermore, Easiness Travel DMC sales channel gives hoteliers the chance for a strong presence in a variety of different markets that would otherwise be unreachable.
Our distribution platform is a unique system in Lefkada, Parga, and the Ionian coast. It plays an important role in making West Greece available to a vast number of travelers. As a result, the demand for these destinations is rapidly growing. Implementing our software in everyday work is a wise tactic for travel agents and tour operators to enrich their portfolios. Additionally, Esiness Travel DMC is an international team and is always on the resort. This gives us the advantage to provide support for travelers in their native language.
The town of Vasiliki is situated in the south of Lefkada island. Because of its location, it is a perfect base for exploring surroundings. This is why it features the local port, which gives opportunity to travelers for a variety of cruise programs. To many, Vasiliki Bay is a favorite spot for windsurfing. The town is rich with fish taverns and small, cozy bars where travelers can have exceptionally charming evenings, while Vasiliki beach is ideal for unforgettable moments.
The Orange Grove Hotel is nestled in a lush garden with colorful flowers. For many, it is an oasis of unique moments of relaxation. The center of Vasiliki Town is within a 10-minute walking distance.
Discover 
All units of the hotel are air-conditioned and with a kitchenette. They also feature television and a balcony. The Orange Grove Hotel is especially liked by couples, families, and small groups of friends.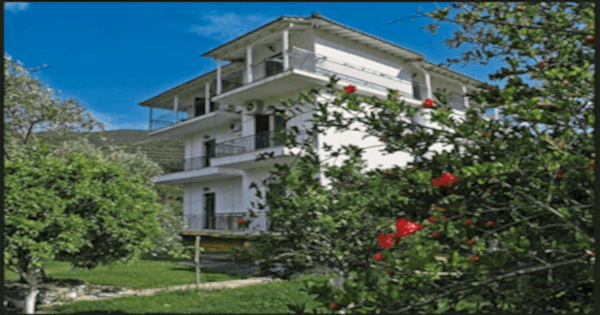 Experience
A pleasant and friendly atmosphere under the Greek sun is what makes this hotel a perfect choice. Accompanied by all the attractions of Lefkada Island, Orange Grove Hotel guarantees an unforgettable stay waiting to be discovered.
Nearby points of interest
Aktio Airport: 57.843 KM
Porto Katsiki Beach: 15.246 KM
Waterfalls Dimosari in Nidri: 25.534 KM
Wooden Bridge of Lefkada: 36.957 KM
Kathisma Beach: 26.121 KM
Cape Dukato, Lefkada: 15.416 KM
Contact us to find out more about the hotel package or how to become a member of Esiness Travel DMC hoteliers' family.